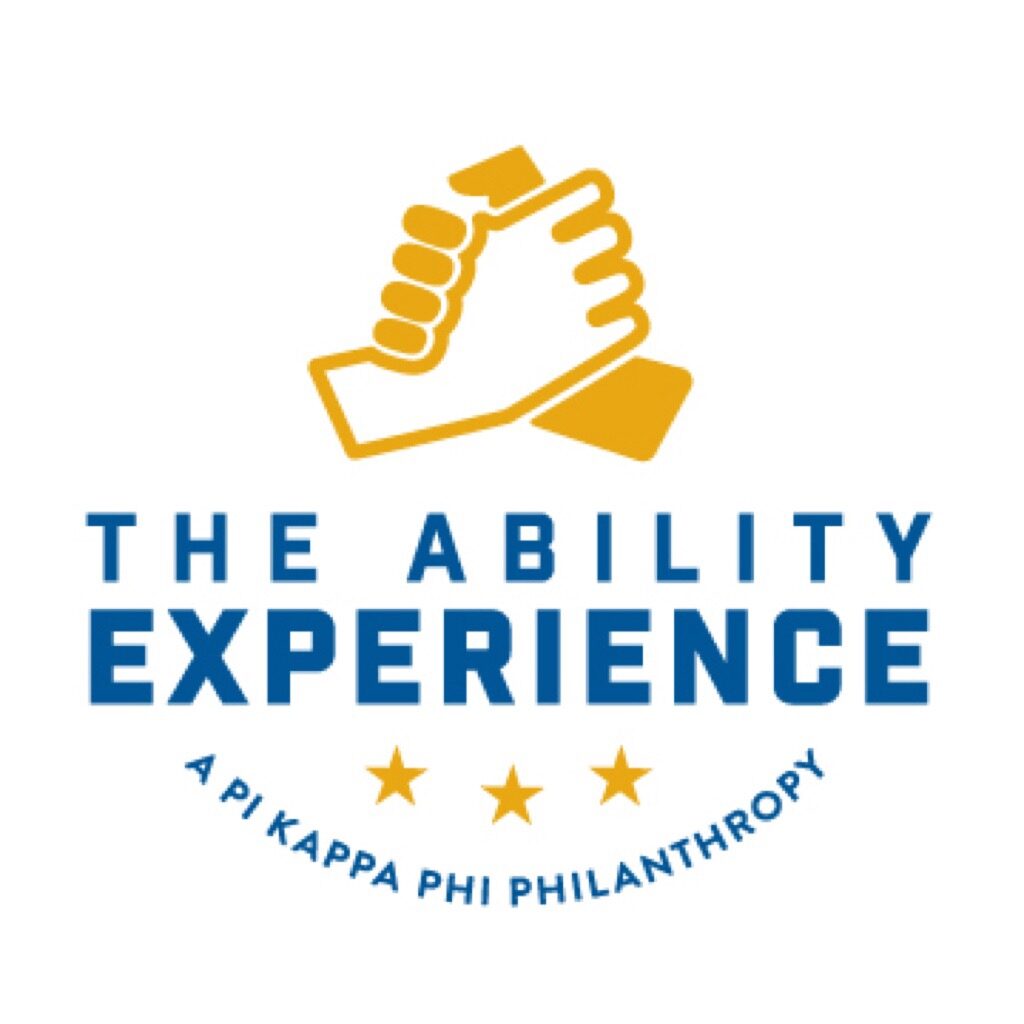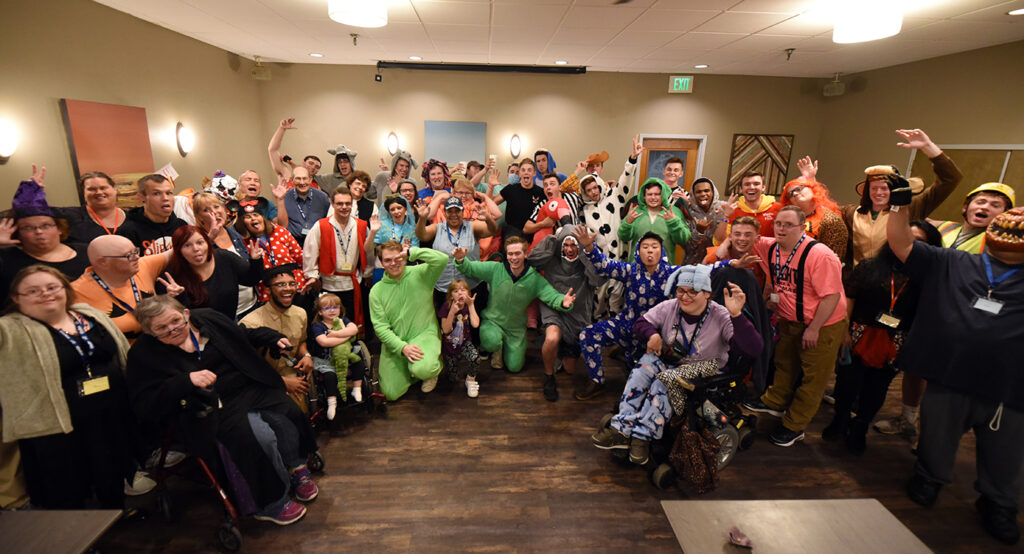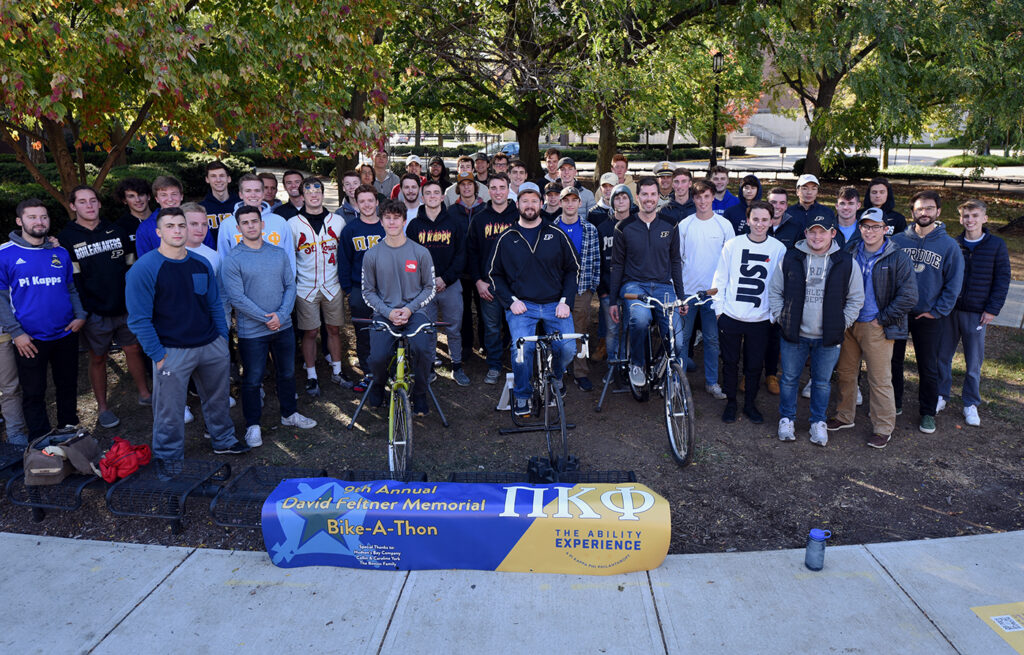 Nationally
Pi Kappa Phi owns and operates a national philanthropy called The Ability Experience (formally known as Push America).
The Ability Experience is a non-profit organization that was founded by members of Pi Kappa Phi in 1977. It is the exclusive service learning project of the fraternity, aiming to serve people with disabilities and instill lifelong service in all members of Pi Kappa Phi. Initially begun as a project to build therapeutic play units for children with disabilities, the organization has become synonymous with fundraising, service and awareness for people with any type or degree of disability.
Since its conception, the Ability Experience has grown to include a number of different events across the nation. These include the Journey of Hope – a cross country bike ride, and Build America – a program aimed at building facilities for people with physical disabilities. Through these events as well as the work of individual chapters, The Ability Experience has raised more than $8 million in support of people with disabilities.
At Purdue
The Omega chapter is proud of our great involvement in the Ability Experience. Throughout the year we host a number of events aimed at helping people with disabilities. These events include Arctoberfest, David Feltner Memorial Bike-a-Thon, War of Roses, Lafayette Jefferson High School special needs classes visitation, Second Chance Pi Kapp/Best Buddy prom, Pi Kapp 100 and Journey of Hope.
Because of its commitment to the Ability Experience, the chapter received the 2017, 2018  and 2019 Star of Hope Award, recognizing it as the top chapter nationally in overall contributions to the national philanthropy. It was the third time in the last 10 years the chapter has been so recognized nationally.
Arctoberfest
Arctoberfest is an annual Halloween costume party held for the local Arc of Tippecanoe, an organization that helps people over the age of 18 with physical and mental disabilities. The event is includes games, snacks and costume competitions.
Bike-A-Thon
The annual David R. Feltner Memorial Bike-A-Thon is a 72-hour event held each Homecoming week in memory of David Feltner (1988-2011). The original Bike-A-Thon was held to raise enough money to purchase a special needs dog to assist him with balance and emergency needs. David rode last five minutes of the inaugural event in April 2011. Tragically, David died three months after the first event. Since that time, his parents or members of Feltner's pledge class ride the last five minutes of the annual event during Homecoming week.
Many sororities on campus also participate in Bike-A-Thon every year, as the event kicks off with a race to see which sorority can pedal the farthest in a set amount of time. In 2019, the ride raised more than $7.500 and participants included chapter alumni and a campus administrator. More than 200 people rode in 2019 for 300 man hours on bikes.
The 2019 version was the Ninth Annual David Feltner 72-Hour Memorial Bike-A-Thon. It was held from 5 p.m., Wednesday, Oct. 9 through 5 p.m., Saturday, Oct. 12, near the belltower in the center of the Purdue campus.
The chapter broadcast on Facebook Live from noon to 1 p.m., Friday, Oct. 11 with a simulcast with staff members from The Ability Experience headquarters in Charlotte, North Carolina. Furthermore, the last half hour of the event was also broadcast on Facebook Live from 4:30 to 5 p.m., Saturday, Oct. 12. Both videos can be seen on the chapter's account (search for Pi Kappa Phi at Purdue on Facebook).
War of Roses
The annual War of Roses events include empathy training, disabilities races and the capstone event, a talent show in Purdue's Loeb Playhouse. Most of the Purdue sororities participate alongside chapter members each spring.
The Partnership
Pi Kappa Phi-Omega maintains and active relationship with the special needs classrooms of Lafayette Jefferson High School. The chapter sends brothers every day to these classrooms to play games and help tutor local kids with mental disabilities.
Second Chance Pi Kapp/Best Buddies Prom
Chapter members team up with Best Buddies-Purdue to host special needs adults who did not get the opportunity to attend a high school prom.
Pi Kapp 100
Established in 1999, each spring chapter members ride 100 kilometers from Zionsville to the Purdue campus raising funds and awareness for people with disabilities. More than two dozen riders participate each year. Riders have included alumni and one mom thus far. Each rider and crew member commit to raising a certain amount of money for the chapter's annual Ability Experience fund-raising.
Journey of Hope
The Journey of Hope is a cross country bike ride to raise money and awareness for people with disabilities. JOH is undertaken by Pi Kapps from chapters across the nation, with Omega as one of the leading participants. In each of the last three years, the chapter has had 10 or more JOH team members, the first such accomplishment in history. At least another nine will participate in 2018, too. The chapter's first rider was in 1991 – Brian Carlson. Thus far, we have had 82 participants in the summer-long event. In 2017, it became the first chapter to ever have 10 or more Journey of Hope participants for three years in a row. In 2019, there were six riders. We anticipate at least another seven riders in 2020 – Calvin Whetstone, Grant Gauthier, Jack Russell, Erik Wilson, Jack Cleary, Max Isch and Harrison Field.