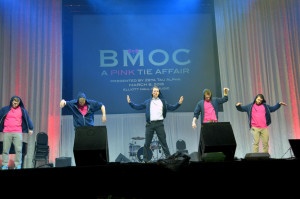 Pi Kappa Phi's entry in a Greekwide talent competition garnered it a Top 10 finish.
Johnny Fullerton was joined by Kyle Marpe, Bon Sommer, Pat Rivelli and Kyle Boland during the March 6 show in Purdue's Elliott Hall of Music. Pi Kappa Phi performed a Justin Timberlake medley, "JT Through the Years" in front of nearly 4,000 audience members.
Pi Kappa Phi was among the 32 fraternities that participated in the event.
"The experience was an incredible one," said Fullerton, who sang solo and danced alongside his fraternity brothers. "Months and months of hard work and preparation led up to one night of fantastic performances."
The event raised more than $124,000 for breast cancer research for Zeta Tau Alpha's BMOC (Big Man on Campus).
"I met women and families of survivors over six months while we were involved in BMOC who inspired me to take life one minute at a time because you never really know what's in store for you," Fullerton said.
"I participated in BMOC for all the families and individuals affected by the disease, and in particular for my girlfriend's grandmother, Idelma Pescara, who will celebrate her fifth year cancer free this June. She's a fighter, a wonderful wife, mother and grandmother."