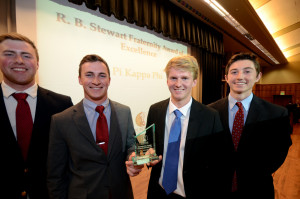 Setting the standard and being the best are ongoing objectives of Pi Kappa Phi at Purdue.
On April 5, 2016, those efforts were rewarded as the chapter received the highest recognition the Interfraternity Council (IFC) and the University bestows – the RB Stewart Award winner for 2015-16.
"The Chapter of the Year Award recognizes the organization that has gone above and beyond to move the fraternity and sorority community forward in the past year," said Brandon Cutler, associate dean of students, at the awards ceremony."
There are eight different categories that determine the winner. Pi Kappa Phi was the outright winner of two of them – philanthropy & community service as well as recruitment & membership development. Furthermore, the chapter was in the top three of each of the remaining six areas – new member development, social development, scholastic excellence, leadership development, alumni relations, brotherhood and chapter pride.
Pi Kappa Phi was selected among six finalists for the 2015-16 award.
"We have always made the No. 1 priority as servant leadership," fall president Tyler Ochs said. "The RB Stewart Award is an affirmation of all the positive things this chapter does in an effort to serve others."
Ochs said the chapter doesn't do things for public affirmation necessarily, but because it's the right thing to do and helps set a standard for modern-day Greek life.
"Award or not, the chapter will continue to achieve academically, attain leadership in campus organizations and to serve others," he said. "That is what makes us special."
A Purdue administrator often tells others that Pi Kappa Phi sets the standards on campus – he calls it "The Pi Kapp Way."
Some of the chapter achievements for the school year bear that out. The chapter was No. 1 in service hours and No. 1 philanthropic money raised in the most recent statistics – nearly double the nearest competitors in both areas. It was No. 4 in chapter size and No. 6 in academics in the fall semester.
Purdue has 40 fraternities.
"I am incredibly proud of the accomplishments of this chapter and continue to do things not for awards, but because it is 'the Pi Kapp way,' " Ochs said.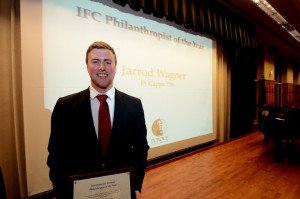 Jarrod Wagner was also honored at the Greek Awards ceremony on April 5. He was named the Interfraternity Council's Philanthropist of the Year out of seven finalists.
The winner is the fraternity man who promotes philanthropy throughout the fraternity and community, not just within the chapter, according to Dr. Rhonda Phillips, dean of Purdue's honor college, who presented the award.
Wagner raised more than $8,000 while participating in the 2015 Journey of Hope, a cross county cycling ride benefiting people with disabilities. He was the chapter's Ability Experience chairman last spring and is a regular participant in the chapter's community partnership with special needs classes at Lafayette Jefferson High School.
"Pi Kappa Phi and Purdue University have given me so many amazing opportunities where I can help others," Wagner said. "The fraternity's events have given me a basis and a mentality that keeps me focused on the needs of others and how I can provide support."
Two other Pi Kappa Phi members were finalists for other awards.
Danny Kennedy was among nine finalists for IFC Scholar of the Year. And Pat Kuhnle was one of seven nominees for the IFC Chapter Advisor of the Year.
But the highlight of the evening was Pi Kappa Phi winning its seventh RB Stewart Award in the last nine years.
"It's rewarding to receive such praise as we strive to be different through our programming and actions on- and off-campus.," said spring semester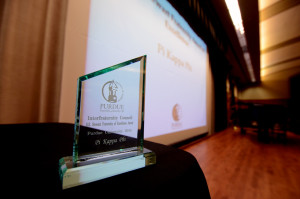 president Ambrose Haas. "Pi Kappa Phi exemplifies the difference between the stereotypical perceptions and what it really means to be in a fraternity. The work we do is unparalleled and our fraternity will continue to push to expand upon our successes in the future."