The Fifth Annual David R. Feltner 72-Hour Memorial Bike A Thon set records upon its conclusion on Oct. 7, 2015.
The cycling event that was held near the belltower on the Purdue campus, raised nearly $5,000 for people with disabilities. The bike a thon is named in honor of the late brother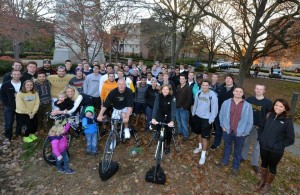 Feltner who died in 2011 from a rare soft-tissue cancer. It benefits The Ability Experience (www.abilityexperienc.org).
Nearly 150 riders and teams from seven sororities participate in the event from Wednesday through Saturday night.
Feltner's parents – Candy and Steve – along with his sister – Jessica – rode the last five minutes as nearly 100 fraternity members surrounded them. As the bells tolled in the tower adjacent to the cycling site, applause erupted even by the young Feltner grandchildren.
Ability Experience Chairman Mark Fisher and President Tyler Ochs thanked the participants and riders alike during comments at the fraternity house following bike ride's conclusion. Chapter members watched a slideshow of the 72 hours. And the chapter presented red roses – a fraternity symbol – Candy and Jessica.
Feltner's dad, Steve, congratulated the chapter members on keeping his son's memory alive and living the brotherhood that brings the event together.
The fraternity also had a posterboard asking passersby to sign a pledge to "Spread the Word to End the Word." That is an effort to eliminate the "R" word when speaking of people with disabilities. More than 1,500 people signed the pledge during the 72 hours.