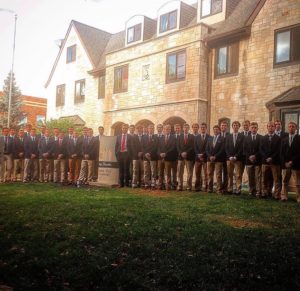 We are proud to announce that the fall 2016 associate member class is off to a strong start on their pledgeship. This comes after one of the most competitive rush terms in chapter history.
In terms of recruitment, the chapter had an estimated 250 potential new members come through our doors. Of these, many rushees returned for multiple events. This is not only a record for the chapter in terms of fall rush, but also makes up a predicted 1/3 of all freshman males who chose to rush. Of those selected to receive a bid, over 85% chose to accept, making the Zeta Omega pledge class one of the largest in house history.
The Zeta Omega associate member class currently sits at 31 members. They represent 9 states, 4 countries, and 8 colleges at Purdue. Overall, they hold an average of a 3.83 GPA from either high school or their past semester at Purdue, and have been working hard to maintain a high level of excellence in scholastic achievement so far at Purdue.
Below is a list of each associate member along with a brief bio:
Nathan Longo
Pledge Class President
Dublin, OH
1st semester FYE
Blake Cobb
Pledge Class Vice-President
Dana Point, CA
3rd semester Chemical Engineering
Evan Doelling
Pledge Class Treasurer
Fort Wayne, IN
1st semester Accounting and Finance
Ryan Patout
Pledge Class Secretary
Los Angeles, CA
1st semester FYE
Mike Belovic
Pledge Class Co-Social
Greenwood, IN
1st semester Supply Chain Management
Joe Knue
Pledge Class Co-Social
Zionsville, IN
3rd semester Aviation Management
Joey Krampen
Pledge Class Standards Board Chair
Crown Point, IN
1st semester FYE
Jack Kellison
Pledge Class Chaplain
Indianapolis, IN
1st semester Actuarial Science
Quinten Adabie
Concord, Ca
1st semester FYE
Livan Arteaga
Michigan City, IN
1st semester Biology
Tyler Baumgartner
Carmel, IN
1st semester FYE
Pat Cole
Nashville, TN
1st semester FYE
Everett Dahlberg IV
Shaumburg, IL
1st semester Sales
Gus Dunbar
Westfield, IN
1st semester FYE
Connor Fisher
Indianapolis, IN
1st semester Exploratory Studies
Charlie Graham
Zionsville, IN
3rd semester Mechanical Engineering
Chris Grant
Nashville, TN
1st semester FYE
Mitch Holsopple
Goshen, IN
1st semester FYE
Jacob Keeling
Nottingham, England
5th semester Geology
Nick Kennedy
Carmel, IN
1st semester Marketing
Brett Mandel
Short Hills, NJ
1st semester Pre-Pharmacy
Antonio Mojena
San Juan, PR
3rd semester Computer Science
Marcus Perkins
Louisville, KY
1st semester Flight
Jacob Moeller
Zionsville, IN
1st semester exploratory studies
David Osma
Bogota, Columbia
3rd semester Electrical Engineering
Taylor Schnettgoecke
Fishers, IN
1st semester Exploratory Studies
Kyle Orzech
Kokomo, IN
1st semester FYE
Matthew Sherlow
Lafayette, IN
1st semester FYE
Ian Zimmer
Warrington, PA
1st semester Computer Science
Michael Thoman
Carmel, IN
1st semester Mechanical Engineering Technology
Justus Schumann
Carmel, IN
1st semester FYE
Bryston Sprecher
Noblesville, IN
1st semester Biology