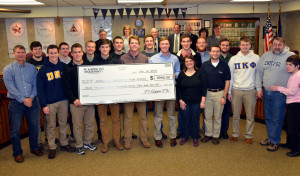 Pi Kappa Phi was recognized for its service to students with disabilities at a local school board meeting on Jan. 12, 2015.
The fraternity in conjunction with its national outreach program, the Ability Experience, presented a check for $3,942 to assist special needs classes at Lafayette Jefferson High School. Chapter leaders and the special needs teacher addressed the board during the Lafayette School Board's January meeting. A total of 15 fraternity members attended the presentation, too.
"Tonight we stand before you with a check to help show our appreciation for the special education students as well as the teachers and administrators who support them," said Andrew Lemna, fraternity president.
The donation represents one-fourth of the fraternity's 2013-14 fund-raising for the Ability Experience. Chapter members conduct a variety of events that raise awareness and funds for people with disabilities. They include the 72-Hour David Feltner Memorial Bike-A-Thon, the War of Roses and the Pi Kapp 100 among others.
Over the last six years, the chapter has donated $22,689 to Jefferson High School's special needs classes. Since it first started raising funds in 1980 for the Ability Experience (formerly known as Push America) the chapter has raised $189,392, including $15,768 last school year.
The fraternity's donations are used for various outings and supplies – including tickets to an Indianapolis Indians game, an iPad used for nonverbal students, luncheon outings as well as field trips to a local candy store and ice cream shops.
Furthermore, fraternity members volunteer almost every school day in the classroom and during the students' outings. That relationship started in 2008.
"The impact of the fraternity's donation truly makes a difference in our community, the school and most of all for my special needs students," said Alyssa Montgomery, special needs teacher. "Oh behalf of myself, my colleagues and my students at Jefferson High School we would like to say, 'Thank you, Purdue guys' from the bottom of our hearts.
"Thank you again for your sincere kindness and overwhelming generosity."
Jarrod Wagner, Ability Experience chairman, said that the fraternity's programming during 2013-14, touched nearly 2,500 people. That total included more than 1,000 during the chapter's spring War of Roses, which features empathy events along with a large campus Greek-wide talent competition.
"Through these outreach efforts, we were able to communicate the abilities – not disabilities – of those we serve," Wagner said.
He also told the board that the fraternity members receive more in return than the servant leadership they display.
"While we may help the students with life skills and academics, the lessons we have learned about friendship, happiness and the value of thankfulness are truly immeasurable," he said.