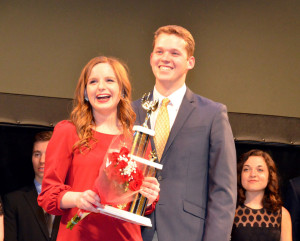 The crowning of a new Rose Queen culminated a week's worth of opening the eyes of Purdue Greeks to the plight of people with disabilities.
Sigma Kappa's Jessica Cieslak earned the queen's crown for 2015. The announcement came at the conclusion of a two-hour talent competition for Pi Kappa Phi's War of Roses, a weeklong competition among 13 campus sororities.
The War of Roses is one of various fraternity programming and fund-raising events throughout the year for conjunction with The Ability Experience its national outreach program.
"The most powerful thing about the week for me was when people came up to me after the show and said, 'This is a really great thing you guys are doing here,'" said Jarrod Wagner, the chapter's Ability Experience Chairman. "It's a very simple comment, but it's great to hear what others think of our efforts."
Cieslak was one of many contestants who participated in all the events during the last week. Those included being part of an empathy dinner where those assembled acted out a pre-assigned disability. She also competed in the disability races whereby participants would take on various disabilities and try to do various timed activities, such as button a shirt with hands covered by socks. Furthermore, the new Rose Queen assisted fraternity members in their daily visits to special needs classes at Lafayette Jefferson High School.
At the talent competition on April 1, contestants were asked two questions – to respond to a funny query about themselves and a second about what they learned during the week about people with disabilities. Then the sororities performed acts that included singing, choreographed dancing or gymnastics. The show in Loeb Playhouse, which saw more than 600 in the audience, also featured a local agency's song and dance performance with clients with disabilities, Spirit! Theatre of Lafayette.
The runners-up in the overall War of Roses event were Lauren Kelly, Alpha Xi Delta, and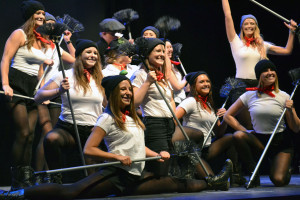 Oliva Pesce of Delta Zeta.
Individual competition winners include:
• Reading backwards (word letters reversed): Alpha Xi Delta
• Obstacle course, hand-impaired: Delta Gamma
• Reading colors (words that used color were printed in another color): Zeta Tau Alpha
• Belted stair hopping: Alpha Xi Delta
• Sheet sign: Sigma Kappa
• Skip a Meal at Hot Box Pizza: Delta Zeta
• Ticket sales: Alpha Chi Omega
The other participating sororities included:
Alpha Gamma Delta, Gamma Phi Beta, Alpha Omicron Pi, Delta Delta Delta, Phi Mu and Phi Sigma Rho.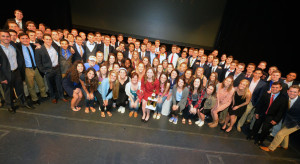 "I think the audience members (at the talent show) – sorority sisters in particular – were able to walk away with a better understanding of people with disabilities and how to best treat them in society."
The fraternity raised nearly $4,000, which will be used locally and nationally to assist those with disabilities.