More than 300 enjoyed the celebration event of the 2015-16 academic year at Pi Kappa Phi – an April 16 Moms Day banquet honoring the chapter's accomplishments.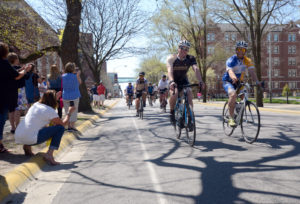 The day started with the early afternoon arrival of the Pi Kapp 100 team made up of more than 25 riders and crew amidst a rousing reception by fraternity members and their families. The 18th annual 100-kilometer ride from Zionsville to campus included a mom for the first time ever. Amy Fisher, mother of Thomas and Mark, left her West Lafayette home by 5:30 that morning to be with the fraternity members upon their 7 a.m. departure.
Moms and their guests had free time with their sons until a 3:30 p.m. reception with appetizers at Pi Kappa Phi house, 330 N. Grant St.
At 4 p.m. bidding began for a public charity auction of 25+ items that ranged from picnic basket to potted plants from bar stools to a portable dog cage. Another 50 or so items were put into a silent auction that concluded after the evening banquet.
A record number of 300 attendees got a special treat as three blood brothers, who were also Pi Kappa Phi fraternity brothers as undergraduates, sang songs they had performed as students in the late '50s to mid '60s. The group re-constituted recently to help celebrate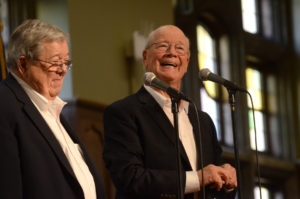 the oldest's 80th birthday last fall. David Griffiths, the retired president and CEO of Citizen's Gas, hosted the event in Indianapolis. Joining him were Bob Griffiths, vice president of Merrill Lynch in Lafayette, and Jim of Carmel.
The group entertained the crowd for 20 minutes.
President Ambrose Haas proudly recounted statistics that reflect the chapter's successes in 2015-16. He said the chapter that was No. 1 in philanthropic volunteer hours and fund-raising, was named the RB Stewart Award winner this year. That award recognizes the top fraternity out of 40 Purdue Interfraternity Council chapters.
"The Pi Kapp way is a winning formula for building great leaders and great people," Haas told the banquet crowd. "We are privileged of being a collective group of fraternity men who strive for excellence and rebranding what it one may think of a typical fraternity."
The Purdue Memorial Union's North Ballroom audience also heard from Ability Experience chairman Mark Fanelli. He told of the various programming things the chapter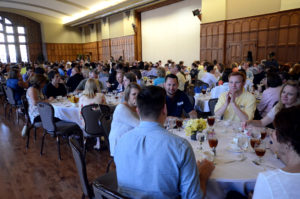 does to assist people with disabilities. During the year, the chapter conducted a 72-hour bike a thon, a Halloween costume themed party, a War of Roses talent show held along with a special needs prom and the Pi Kapp 100.
"It's getting out of your comfort zone to try to learn about and improve someone else's situation," Fanelli said. "That's how we create leaders. It keeps us grounded and it keeps us strong."
He also told of a story on his 2015 cross-county cycling trip with Journey of Hope. He, like other cyclists, was paired with special needs kids for a day in Las Vegas. Fanelli's partner was an 18-year-old man with Downs Syndrome.
"That whole day it was him and I conquering his fear (about riding down a water slide) and having an amazing time," he said. "What I did not realize was that while I curing his own doubts about going down the waterslide I was overcoming my doubts about myself (by dealing with someone with disabilities for a full day)."
Sandie Wagner, whose son Jarrod is a chapter member and a 2015 Journey of Hope rider, engaged the crowd with her story of overcoming doubt about the Greek system.
She discouraged Jarrod to join a fraternity, but those fears changed in subsequent years.
"For you new moms if you are apprehensive, or have reservations like I did, I think Pi Kappa Phi is just a pathway for these boys to have an opportunity to grow in service and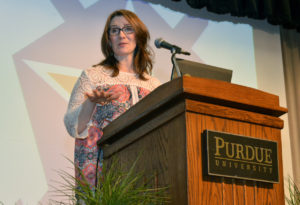 leadership and something they are going to take with them forever," she said. "It doesn't end at the doors of Purdue.
"I think really we are all here on this earth to find a reason to help each other. And this is a place the kids can do it."
Earlier in April, her son was recognized as the Purdue Interfraternity Council's Philanthropist of the Year.
"I have to say that Pi Kappa Phi has made my son a better man. And Jarrod, you were right all along (about joining the fraternity."
The Pi Kapp 100 team raised $1,240 for the Ability Experience with its trip. The auction brought in $6,573 to help cover expenses for the day and another $500 for the philanthropy.