A day filled with laughter, celebration and multiple weather conditions was in order on March 30 as the chapter celebrated a successful school year alongside their families and friends during Moms Day 2019.
In the morning, moms got the chance to register and drop off gifts for a charity auction later in the day. Then they, along with their sons, got to greet the 20th anniversary running of the Pi Kapp 100, a 100-kilometer bike ride from Zionsville to the Purdue campus. The Pi Kapp 100, along with some of the proceeds from a public and private auction of items donated by family members raises funds for the chapter's annual fund-raising for the Ability Experience, the fraternity's outreach program for people with disabilities nationwide.
The Pi Kapp 100 team left Zionsville before 7 a.m. and encountered rain, hail and sleet during the more than 5-hour trip. Then shortly after they arrived, a late-season snowfall began that ran through the 6:30 p.m. banquet.
Auction items included a custom-made dart board, cornhole boards, a board of a multitude of lottery tickets, a board of gift cards from various eating venues along with baskets of snacks and picnic baskets. There was even a Purdue gnome with a Pi Kappa Phi tattoo in the mix.
Nearly $6,000 was raised through the public auction and a yet-to-be determined among through a silent auction and monetary gifts. The funds raised by the day helped offset expenses for the day's events that included appetizers and an evening banquet in Ross-Ade Stadium.
More than 200 people attended the banquet that featured speakers from the chapter including president Eric Cave, historian Bailey Green, Journey of Hope alumnus Jack Kellison and chapter advisor Pat Kuhnle. Michelle Longo, mother of 2018 present and current IFC president Nate, talked about her experiences with Purdue and the fraternity.
Then keynote speaker was TJ Sullivan, an alumnus of the Indiana University Pi Kappa Phi chapter and a renown public speaker to more than 3 million college students in all 50 states. He challenged chapter members to step out of themselves to serve others. And he explained how the fraternity members are now adopted family members of their sons for a lifetime.
Text of Michelle Longo, mother of undergraduate Nathan Longo, speech at March 30, 2019 Moms Day comments: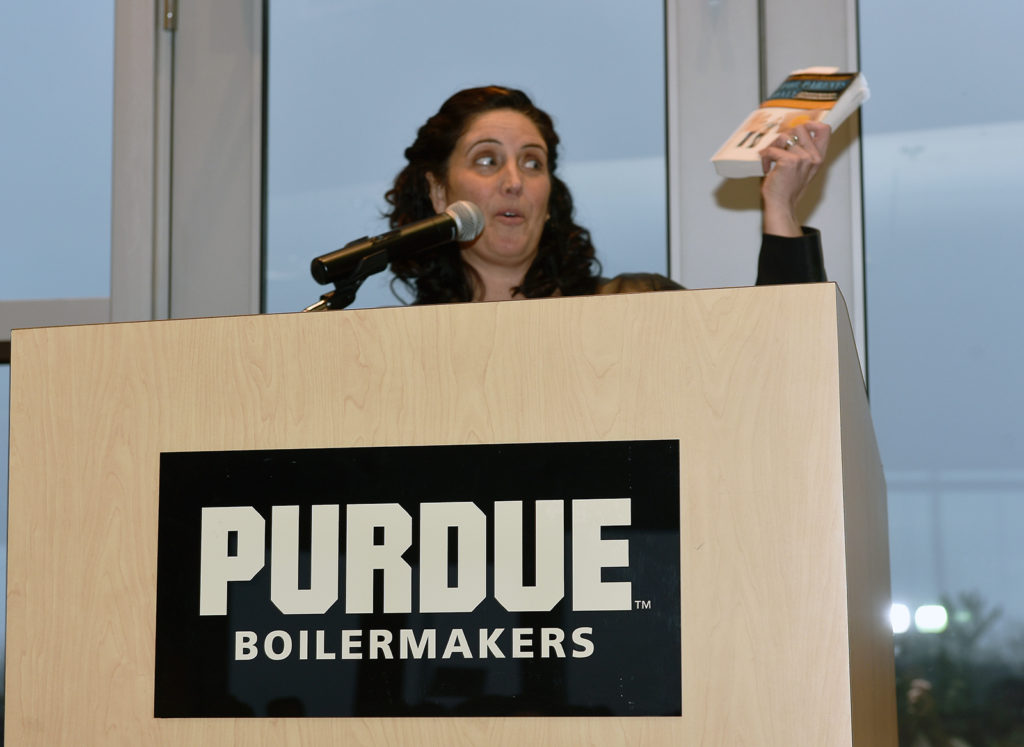 "In the summer 2016 I was sending my first born off to college. I was thinking 'how terrifying is this?' I had someone introduce to me there was this really great book that I should read and it would help me prepare. You'll love this title, maybe some of you have seen it before, "The Naked Roommate: And 107 Other Issues You Might Run Into in College." I promptly bought it for him and I'm sure he's never read a single page. I got the parents only version and it's really good. I started reading it and started tagging pages and underlining things and forcing him into conversations he didn't want to have. We had a great summer preparing for him to leave.
It was really interesting as I went through the book I got to Chapter 14 that says, "Greek Life." It was the good, the bad and the ugly of fraternity and sorority life and I flipped right on past it and I didn't read the chapter. I read every other page of the book.
So, he gets to college, "mom it's not a scary place, there's a cornfield on one side, there's a river on the other and I'm pretty sure I'm going to be fine." So, I started to chill out. Then he calls me a week later and says, "By the way, I'm going to pledge a fraternity.
'Oh, my gosh. Quick get the book, I've got to read Chapter 14.' I had no idea what to do. It was worse because my mom laughed at me hysterically. I said, 'Why are you mocking me here.' She reminded me that my husband had been in a fraternity and some of his best memories, all of his friends as an adult, were from those years. So why wouldn't your son want to follow in his dad's footsteps? And it dawned on me that I was having a "dah" moment.
I look back now, three years later and he's held a number of leadership positions that have been a gift from his fraternity. You heard that he's currently working with the Interfraternity Council and he was his pledge class president, secretary and last year was president.
Pat (Kuhnle) asked me when there was an article written in December about the IFC job, I got to put a few words the article. So, I thought those would be insightful. His dad's comments went first. My husband, Greg, was a fraternity member in college and was very supportive of his son joining a fraternity. His mom, me, not so much. The news headlines seemed to be skewed toward the negative and a mom's radar is always on full alert.
Now, who are my freshmen moms and dads in the room, raise your hands. OK. Are you with me here? Moms radar, right? I was a little skeptical to say the least. I eventually warmed to the idea, but I really didn't know anything about Pi Kappa Phi. So, Nathan shared a lot of statistics – he's the math man – so he shared a lot of statistics about their esteemed position on campus, but more importantly he was talking about his gut feeling about the people he was meeting as he was going through recruitment and indoctrination. I guess we had to trust his judgement.
We later learned in our lives the many people who were Pi Kappa Phis. Who knew? Each year we have learned more and more and I am just overwhelmingly proud of him at this point.
Moms Day weekend 2017 came I arrived here just like all of you that are freshmen moms and dads and I watched my son who is not an avid biker cross the line after the 100-K run. He put his arm around my shoulder all day introducing me to some of the nicest people I've ever met. I kept thinking, 'this is really cool, he's never put his arm around my shoulder.' And I heard a mom just like me standing here (at the podium at moms day) I gotta tell you it sealed the deal for me. I spent the day and really enjoyed myself and met such great people. So, some of you I get to see for the third time now.
But I can tell you it's never been without worry. In Nathan's roles in leadership, I will often send him these little notes that I read and they are all these tough things in the news. Recently, I sent one that was a parent's perspective. There was a boy from Ohio who was from our hometown who passed away on his campus last fall as a freshman. The story as it unfolded is that there were some appalling things that were happening in that chapter. It gave me pause, but here's the thing: It promoted a conversation. I sent it on to Nate and here's our conversation. He said, "Wow, this is really tough to hear, mom. It kinda makes me sick.' I defend fraternity life every day, but sometimes these situations make it tough. I know a lot of you are nodding your heads. It's one of those things that I can see all the positives, but they are not making it to the news. The tough things are making it to the news. Nate said, 'I very much understand that.' I cannot believe stuff like that goes on. Now, those are the most comforting words that I ever come out of his mouth – "that stuff is not going on at this chapter" – and I am feeling good. And I hope it's not going on at this campus, either. My response to him is that 'I hope your work keeps it from happening at Purdue. Your job (as IFC president) is important. Guys in this room, your job is important, too. In fact, it's life or death sometimes.
So, never forget that higher purpose and Nate says that is my goal. That motivates me every day.
This group of men laugh together and you keep each other honest. You hold each other accountable. You raise funds like nobody else for people who really need it. You are becoming men together and I could not be more privileged than to spend some time with you getting the chance to talk about my experiences. Thank you."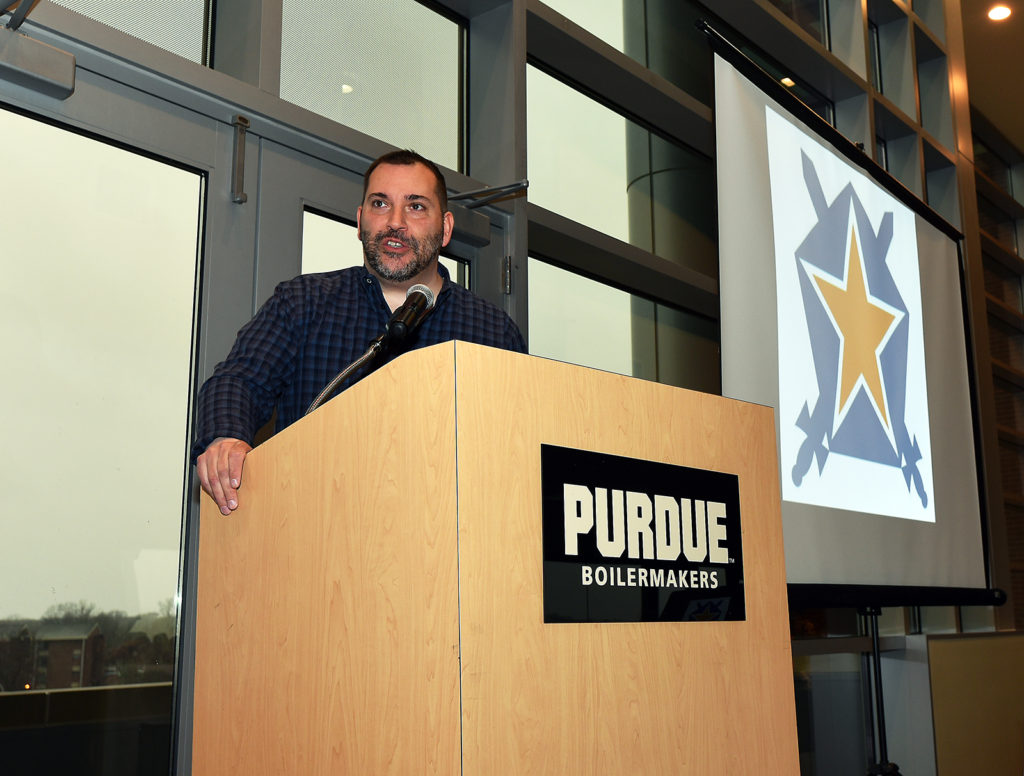 "I try to go to a Pi Kappa Phi thing every year. I just want to keep in touch and see what's going on and see the students. My first love for this fraternity is what it does for young men. I want to thank you all for having me here. For the love that you showed today is really fantastic. I met as many of you that I possibly could over the course of the day. I thank you very much for having me here. For the brothers of the Omega chapter, thank you for being so incredible.
I see Pi Kapps all over the country. I go to about 50 or 60 schools a year and I just don't meet that many chapters that are this amazing. I want to thank you for being a class act.
To all the parents, thank you. I want to make sure you hear that very clearly – thank you for investing in your children. I'm a dad too. I have a 25-year-old son and a 16-year-old son and I know we invest so much in them, so much hope and so much care. So, I want to thank you for everything, for being here, for making the trip – some of you came further than others. Thank you for making this a priority for your kids. Thank you for investing in their education. I know a lot of you had to make sacrifices to send your sons here. That live auction was just a hoot. You all are just funny.
Last night we were at a family's house down in Zionsville. You really get a sense that moms and dads really provide that home base – a place where they feel safe when they are in the tumultuous parts of their lives.
It's great to be visiting you from Colorado. Seeing snow in April is very common for us in Colorado. We had 75 degrees yesterday in Colorado and I know we have at least one more foot of snow blizzard coming our way. I am an IU grad. I was a founding father at Pi Kappa Phi there. Here's the funny thing – Purdue has been better to me than Indiana has ever been. I have probably spoken at Purdue a dozen times over the years, but I did have this moment at IU hired me a couple of years ago and I did the math and realized that IU had paid me than I had paid them. That was a very cool moment.
We're here tonight to celebrate the bonds of family. There's two kinds of families, right? There's the family of origin, you are the ones who built them to who they are today. But then there's the family of choice and those closer to my age know what I am talking about.
There are people in your lives that you choose to make your special family, that you choose to bring into your lives. That's the fraternity brothers, the girlfriends, the boyfriends, the other friends, the mentors. I am the father of two boys adopted from foster care. I want to acknowledge that there are some men in this chapter who are not closely tied to their families of origin. We need to give them love, too. These families of choice are very, very important to them, too.
It's really wonderful when we have events like this where we all get to be together, we all get to show affection for each other in a common sense of belonging. That's really very powerful. I was one of those men. I went to Indiana University from a very messed up family situation. My father was out of the picture and it was that family of chose that I found at IU and through Pi Kappa Phi, quite accidentally. I joined at the very last minute at the end of my junior year. I thought fraternity men were the biggest jerks in the world and I loved it, I loved it. I never thought I could be that close to a group of people. It was such an incredible experience.
That family of choice – Pi Kappa Phi – shaped me into the man I am today. It's the reason when I get invited to something like this that I go, 'yes, yes, absolutely yes.' I know that your sons are getting shaped right now. It's such an honor to be part of that.
To the incredible moms in the room – much love to you. We celebrate you, we share food and drink, we celebrate your contribution to these men and this organization for making memories.
When I am invited to events like this I'm usually invited so I can fill in some context for this whole national fraternity thing. I'm someone who can celebrate the greatness of Omega, but I also see the big picture. I get to visit all over the country with Pi Kapps. I've been involved for 30 years and I did all the conventions and when I walk into Supreme Chapter, which is what we call our convention, I have all the ribbons. I've done it all in the fraternity.
I worked for The Ability Experience for a while and I helped get a lot of the programs started right out of college. I have some context that I can give you. I help you understand how all this wonderful energy in this room and around Omega is part of something much larger than what we have here tonight.
If you'll indulge me, I would like to give you two gifts. For the moms and dads, I'd like to give you the answer to "why is your son in a fraternity" because I know you get asked that. I know you know there are people who are really surprised that your son joined a fraternity. I know some of you have to explain that to uncles and aunts and grandparents. I'm going to give you the gift of that answer and you never have to worry about that again. And for the brothers in the chapter, I'm going to give you gift of the greatest lesson I've ever learned in Pi Kappa Phi.
First, the gift to the parents. Why is your son in a fraternity? There are only two things you need to say – he's finding his family of choice and he's learning how to give.
I wrote the White Diamond. The White Diamond is the book that these young men study as they become members of the fraternity. I wrote the first one in 1991 when I was 22 years old. If the men in the room look in their White Diamond in the back it will show all the editions and it will show me right there at the top in 1991. I spent a year traveling and learning about the fraternity and I gathered so much information. I couldn't put it all in the book, right? Some of it is awkward. When you are writing the book that young men are going to use to join the fraternity, you have to keep it formal and full of the good stuff. I learned some pretty crazy stuff. Our fraternity was founded because one guy really got pissed off. Pi Kappa Phi exists because some guy got a hair up his butt and got pissed off. The College of Charleston is the oldest municipal college in the country. What that means is that it's owned by the city. It's not a state school and it's not a religious school. At the turn of the century most schools were large state schools or they were religious schools. And the kids that would go to a municipal college, like at the College of Charleston where a specific set of students. There were about 200 students at the school – all men at that time – they tended to be the smart, but not religious and not from wealthy families. It was kinda like a working class, middle class type of place to go to school. Andrew Alexander Kroeg Jr. who all the men know was one of the three founders, was a very intense dude. Everything I ever found out about him was that he was really, really intense. Not the most laid back kinda guy. He was very ambitious. He was very, very hungry. By the way, he pledged Kappa Sigma fraternity and got thrown out. He was very pissed off and didn't like fraternities. At the College of Charleston, the only guys who got elected to student government were members of fraternities. And once he was thrown out of Kappa Sigma he knew he would never, ever be elected to student government. So, he decided to protest this, he would show how ridiculous fraternities were and he decided he was going to start a group that was known as Nu Phi for non-fraternity. He got some of his friends together and the rest is history – how Nu Phi became Pi Kappa Phi. He had two really good best friends, Harry Mixon, who was this really serious guy – studious, scholar, a guy who you'd think of as an accountant, a very sober-minded young man. And then there was Simon Fogerty, he was the crazy one. The things that I learned about Simon should not be repeated. Simon was an athlete on all the teams for the college. He was extremely good looking by 1904 standards and very fun to be around. They started this thing for their own benefit. As much as that's not a glorious thing to put in a book, they were pretty selfish reasons they started this fraternity. They wanted access to the power. They wanted to have influence, status.
As they drew closer together they realized they were going to start "a real" fraternity. They brought in some of their other friends to do this and it started to change for them. They were having a really good time and they got the attention they liked. Staring a new fraternity really disrupted things at this small college of 200 students. There were three fraternities and now there's this fourth one. It really shook things up. People were pissed. They did not like this new thing that was started. Nu Phi became Pi Kappa Phi and Kroeg had a chance to be president of something – and that's what he wanted. It gave them a place to pour their energy; it made them feel better. They were finding their family of choice, just like your sons are.
Then something happened. It felt to great they became obsessed with giving it away. Simon had a friend who was an athlete at Presbyterian College and he told one you should start one there and our second chapter started. And then one of our first founding members went to California and he started a chapter at Cal-Berkeley. And then another one knew someone at Furman (in South Carolina), which is a religious school so they had to be quiet and secret about it. And they started their fourth chapter there. Another person knew someone at the University of South Carolina who was a member of this group called the Sigma Society. They weren't a fraternity so he said 'why don't you become one?" And the fifth chapter became the Sigma chapter.
Through Pi Kappa Phi these guys at this small municipal school in Charleston, they learned how to give it away. 115 years later we are still doing it. Young men are coming to this place, to Purdue, to this chapter and they desperately need connection. Parents you know what I am talking about. This generation is spending a lot of time on their phones. Real human connection has become this amazing human currency and they are starting to form their family of choice. I could see that today. Couldn't you see how close these guys are to each other? It's really remarkable.
This is how it happens. They come in, they want to find a place where they matter, where they can access the things like status and access to women, let's be honest. Or maybe a place to party or whatever it is. Most men come to Pi Kappa Phi for pretty selfish reasons. But then they learn to give it away.
Thomas Sayre in 1977 had this idea of building play units for people with severe disabilities. They pursue it for personal gain then they learn to give it away. This pattern keeps repeating itself in Pi Kappa Phi. Thomas Sayre in 1977, needed funds because he had this idea of building play units. He needed money to do that and he had met some Pi Kappa Phi people and they said 'well, maybe we'll raise money for you.' He became this guy who created The Ability Experience. It's an amazing story.
Durward Owen, you sons will know his name as the honorary fourth founding father of our fraternity, was the CEO of the national fraternity for 35 years, I think, maybe 40. He quadrupled the number of chapters in our fraternity. He learned how to give it away.
Bruce Rogers, the guy who started that Journey of Hope trip. He's my age and I've known him for a long time He wanted something to do the summer before law school. He wanted to do something crazy so he decided to ride his bike across the country and raise some money for the fraternity's philanthropy while he was doing it. He found that he inspired some people so he helped make it happen that these guys can do it during the summers.
The best things in our fraternities sometimes starts from selfish places, but they learn to create something really incredible.
Now, for my Pi Kappa Phi brothers I'm going to give you your gift. The biggest think I've learned in my journey of 30 years. Fraternity only matters when you learn to give it away and to do it from a place of love. I know you've seen it. It's that moment when it stops being about you and starts being about somebody else. When your little brother gets initiated. Or when you mom comes and says 'oh, I like your brothers." When you get something like this and you give it away, it becomes remarkable.
The guys who signed up for Journey of Hope – thank you. They want to accomplish something. The guys who first signed up for that Journey of Hope across the country, they signed up because they wanted to do something big. They wanted to do something impressive. They wanted to challenge themselves. It takes about two weeks and they learn it's not about the bike at all. They arrive in DC so different, they humble, they are full of love, connection and meaning.
Gentlemen in the room: I think you know there are two types of men in the fraternity. There are those who do it for themselves and there's those who give it away.
The reason I am here tonight is Omega is a place where giving fraternity away is taught. It's taught here. Men cannot become part of this chapter and not learn that. Thank you for providing that. To the parents, thank you for providing the role models that allow these beautiful men come here and do this. They are building their family of choice. They are making bonds that will last them forever and they are becoming better men. And when fraternity does that, it's pretty remarkable."