The Purdue Pi Kappa Phi chapter hosted a highly successful and massively attended Moms Day 2022 on April 2, starting with the arrival of the Pi Kappa Phi team and ending with a banquet celebrating fraternity.
More than 250 people attended the capstone event – a banquet highlighting the school year and its members. Attendees heard from chapter president Andrew Eichmeier, Ability Experience chairman Sam Bogner, historian Ted Brandon, chapter Journey of Hope alumnus Michael Bailey and keynote speaker Brent Grunig.
Eichmeier lauded the chapter's accomplishments in many areas that led it to once again to being a finalist for Purdue's top fraternity in 2022, an award that will be given later in April.
"I am blessed to have been able to meet so many wonderful people during my time in the fraternity and I have learned many lessons that will stick with me for the rest of my life," Eichmeier said. "To all of the brothers who make this chapter so special, thank you. And to all of the mothers who have raised them to be such great brothers, thank you as well. Your sons are a part of an organization that changes thousands of lives through its networks, service, and philanthropy."
Bogner explained the four major events related to the Ability Experience fund-raising as well as what chapter members do for and with people with disabilities – the David Feltner Memorial Bike-a-Thon, Arctoberfest, War of Roses and Pi Kapp 100.
In Ange Bailey's remarks that her son read, she talked a lot about how her son got to be part of the national fraternity's cross-country cycling event, Journey of Hope.
Bailey subbed for his mother, Ange, who was to give her reactions to her son being part of the chapter and riding across the country on the national Journey of Hope programming, but she was unable to attend at the last minute. She wondered how a guy who had not regularly ridden a bike since he was 10 years old was going to make it across the nation.
"Not going to lie, I was a nervous wreck," she wrote. "Let me tell you, that summer he made it … I said one of the best experiences was watching them leave Seattle, well even better than that… Watching them ride into Washington D.C., that was amazing for so many reasons. I don't think you can ride cross country for days, serve together, and raise money for a common cause and not be completely connected and have lifelong friends after that experience.
"Pi Kapp and JOH Has been a great experience for Michael and for my experience as well."
Brandon thanked those who make the fraternity what it is today including honoring chapter academic advisor Rita Baker and Leo Dunbar's family who hosted the Pi Kapp 100 team the Friday night before the team's campus arrival earlier in the afternoon.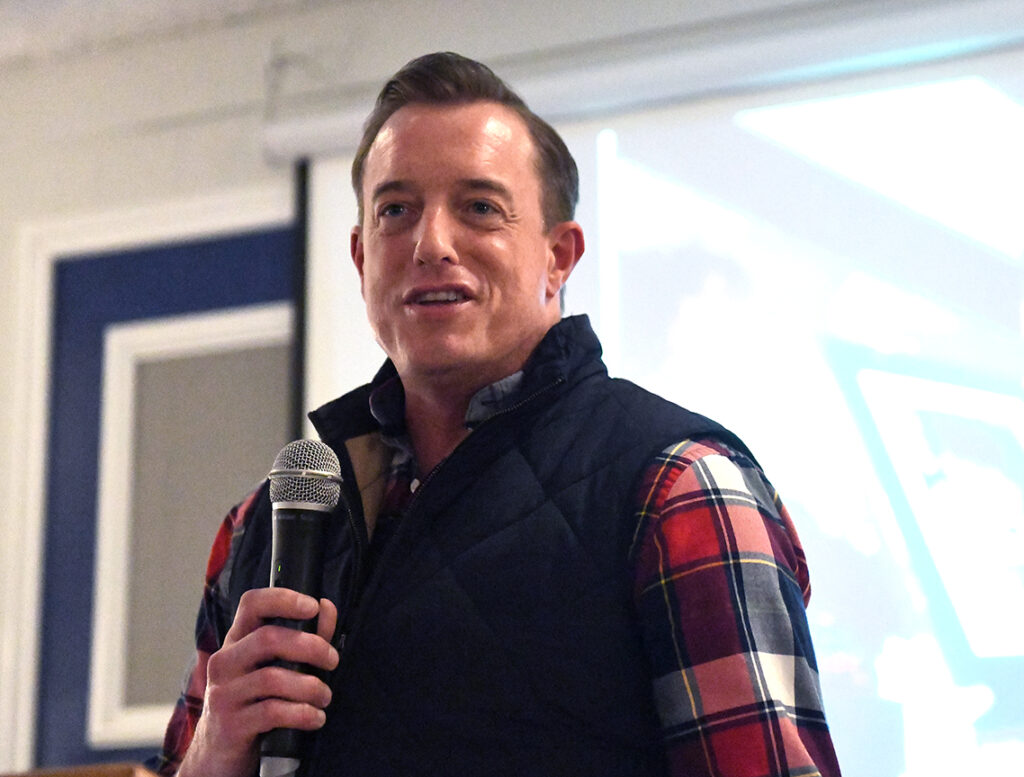 Grunig, who is a 2001 graduate of the chapter, works as the assistant executive director of chapter growth and development for the national fraternity.
Grunig congratulated chapter members for their commitment to service.
"Frankly, Purdue is the top and what an ideal chapter involved with The Ability Experience looks like," Grunig said at the banquet. "In fundraising, Omega has historically been a Top Five chapter. Omega is THE shining example in overall programming."
He also has consistently been impressed with the guys who comprise the chapter.
"What truly sets Omega ahead of the pack of our chapters nationally is the high quality of men that have joined and continue to lead this chapter to success," he said. "While I may be a bit biased – and trust me, my staff reminds me of this every time I mention Purdue as an example – the chapter has consistently achieved top awards for both the chapter and individual members for the last 15-20 years.
"As you can see, the Omega Chapter is a true example of when fraternity is done right, it can produce men who embrace their role as a leader, puts service before self, and improves the world around them."
Grunig also talked about his experience while at Purdue.
"My pledge class celebrated 25 years of friendship last fall in French Lick for an extended weekend where many memories, stories, and laughs occurred," he said. "There also may have been an attempt to relive some of our college days, and unfortunately, the recovery in our 40s is just a bit different. I've been very blessed to continue to have these men in my life."
The banquet came on the heels of the Pi Kapp 100 team arrival – a 100-kilometer cycling trip raising money for The Ability Experience, the fraternity's philanthropic effort assisting people with disabilities – a Moms Day reception and charity auction. Proceeds, which accounted for more than $10,000, offset the costs of the day's events. Some moms chose to assist summer events fund-raising goals.
Folks can continue to assist the three chapter Gear Up Florida team members – Andrew Davis, Andrew Eichmeier and Tyler Wagner.
Davis' donation page can be found here. Eichmeier here. And Wagner's here.
You can also assist the three chapter members on the Journey of Hope this summer. They include Christopher Augustinovicz whose fund raising page can be found here, Matthew Keogh's here and Wayne Morrow's here.