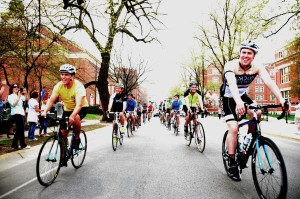 A beautiful early spring afternoon greeted moms as they watched their sons arrive for the annual 100-kilometer cycling ride on April 18, 2015. That event kicked off a day filled with fun for more than 300.
The 16th annual Pi Kapp 100 saw nearly 30 riders and crew arrive at 12:30 p.m. at the fraternity house at 330 N. Grant St. Nearly 100 people lined the street to see the riders bring their mission of helping people with disabilities to campus.
Participants committed to raising money and awareness for the fraternity's national outreach program, The Ability Experience (formerly known as Push America).
After the ride, guests and members alike ate appetizers including shrimp cocktail, chips & salsa, meatballs, cold meats & crackers along with various fruits.
At 3 p.m., the chapter hosted a reception that had more than 200. One of the day's favorite events – the annual auction of moms-made or moms-purchased things – started in the Great Hall at 4 p.m. More than 25 items went through the open bidding process and a similar amount remained downstairs for a silent auction.
Items included homemade jewelry, designer purses, a knife set, original artwork and a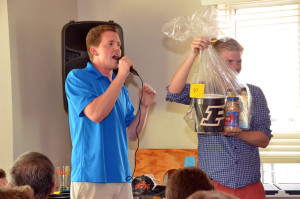 snack basket to name a few. The last item up for bid – a customized cooler compete with drink cups, t-shirts and sun visors for the beach– brought in the highest bid, $1,201.
In all, the silent and public auctions raised $9,851 for the Ability Experience, a house improvement fund or to cover the day's expenses.
Then at 6:30 p.m., a record 280 people attended the moms day buffet, in the south ballroom of the Purdue Memorial Union.
Attendees watched a slideshow of the fraternity's activities during the school year. They also heard from president Andrew Lemna, Ability Experience chairman Jarrod Wagner and Journey of Hope alumnus Luke Millen. The keynote speaker was Tampa native Dr. J. Patrick Figley, a former national president and Mr. Pi Kappa Phi.
Lemna praised his chapter brothers for their accomplishments. He said the chapter was a finalist for the RB Stewart Award as Purdue's best fraternity for eight straight years, winning six of them. It was one of 15 Founders Award winners this year, the highest honor the national fraternity can bestow for its 200+ chapters. And he said the fraternity rose to No. 3 in grades in the fall with an average of 3.14 GPA. The academic achievement included 62.2 percent at a 3.0 or higher, 33.9 percent on the dean's list and/or semester honors as well as 4.7 percent with a 4.0.
"We have an unique blend of members here," Lemna said. "We have guys from all across the country who share common values. We are men dedicated to service and a selfless brotherhood.
"It has been a blessing to be a part of such an amazing group of men and I am truly thankful for what we have here at Pi Kappa Phi-Omega chapter."
When Wagner spoke, he pointed out the philanthropic efforts within and outside the Ability Experience events.
Wagner spoke of a moment when he worked with a special needs student at Lafayette Jefferson High School.
"After adding 5 plus 5 four times, he recorded his answer," Wagner said. "He realized he just used multiplication and then the student responded, 'I didn't know I could do that' … it was a very touching and powerful experience for me."
Wagner focused his closing remarks on how he and his fraternity brothers, can make a difference in society.
"I believe in this world, you are not here for yourself or to help yourself," he said. "You are with seven billion people and you're bound to make a difference in someone's life."
Millen told parents and audience members about his experience in the Journey of Hope. He focused on one interaction near the end of his 2013 trip.
"One guy, in particular, stands out among the rest – Zack from Pittsburgh," Millen said.
The interaction was near the end of the summer-long, cross-country trip. Millen estimated he might have been in contact with up to 700 special needs clients during the 47 friendship visits.
Zach, 26, who has the looks and size of a 10-year-old, suffers from Lesch-Nyhan Syndrome. The condition causes lack of muscle control and leads to possible self-mutilation habits.
When Millen tried to interact with Zack, he was greeted with profanity and disdain. Nonetheless, Millen found common ground while the two ate lunch – baseball and sunglasses.
"More than any other person that summer, Zack taught me what it means to be tough," Millen said. "At 21 years old, I don't know if I could handle the things that Zack faces daily. I can tell you I know someone who I look up to and emulate in finding beauty and joy in life, no matter what."
In his keynote speech, Figley praised the chapter for its commitment to service. He cited the fact that the fraternity will have had 44 riders in the Journey of Hope by 2016.
"You are almost like the ideal Ability Experience chapter," Figley said. "I don't know of any chapter that has participated as immensely and wholeheartedly as you. I applaud and appreciate that effort."
He recognized the parents for "teaching them how to be the young men they are today. You are the true reason that the Omega chapter is successful."
He said the undergraduates in the room learned values at home. He challenged his brothers in the room to use the integrity, honestly and ethical mores from our ritual to turn those values into virtues for life.
"Mothers, dads, you have a right to be proud for these are emerging men of virtue," Figley said.
"Each of you, men of Omega, will be faced with challenges and you don't even expect to happen in your life," he said. "How you will be able to deal with diversity will be influenced in no small extent by how you deal with others along the way. What you get will depend a lot on what you give.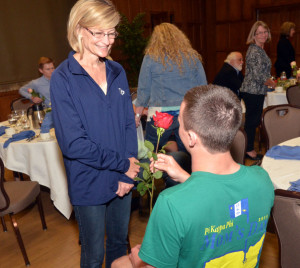 "The fraternity gives you a running start. The men of Omega are indeed the truth behind that statement. Gentlemen of Omega, I am proud to be your brother."
The evening ended as sons presented their moms with red roses while the fraternity's sweetheart song was sung.