Unlike most of the 2,000 dancers in the 2017 Purdue University Dance Marathon, the large contingent of Pi Kappa Phi members had alternatives to keep their minds off the 18 hours of the annual event.
Pi Kapps made up 53 of the 2,000+ registered dancers and raised $18,069 for Riley Children's Hospital in Indianapolis. Instead of being mindful that they could not sit down for three quarters of a day they kept busy.
The 18 hours of the marathon started at 6 p.m., Saturday, Nov. 18 and concluded at noon Sunday, Nov. 19.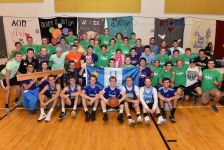 11/18-19/17 PUDM, Pi Kapp Style
For the second year in a row, fraternity members managed the three stationary bikes set up to give marathon participates "a break." For a PUDM donation, dancers could "sit" on a stationary bike seats while pedaling for an hour. Otherwise, Pi Kapps manned the bikes in memory of David Feltner, a "Riley Kid himself" who died in 2011 from cancer as an undergraduate chapter member.
Furthermore, members could participate/watch Pi Kapps compete in various intramural activities, including corn hole (runners up), tug of war, volleyball, knockout dodgeball and basketball.
The chapter's hoops squad made it to the 1 a.m. finals. The seven-man team overcame an 8-point deficit to tie the game in the second half. The Pi Kapp team took the lead for good in an overtime session, winning 44-41. The gym was full of Pi Kapps and their supporters – whether dancers or just fans.
"PUDM was a whole new experience for me," said freshman Tom Hirschfeld, the fall pledge class president. "It is very hard to prepare someone for 18 hours of dancing, games, and non-stop enthusiasm, but when it's 3 a.m. and you've been awake for nearly 20 hours it's funny to look over at your friend, see the bags under their eyes and know that they are just as sleep deprived as you. Together you will make it through the next nine hours of the marathon!"
Hirschfeld was valedictorian at a private parochial school in Indianapolis. After accepting his bid this fall, he's been with his pledge class every single day since.
"It was really inspiring to see so many of us standing for the same cause, supporting each other to stay awake and dance when all we wanted was sleep," he said.
Over the years, Pi Kappa Phi's has maintained a commitment to the dance marathon. Nearly every year since the event started at Purdue in 2005, a Pi Kapp has been among the leadership of PUDM, The 2017 version is no different.
Nate Grabner was on exec this year, which raised a record of more than $1.1 million for Riley's research and support services.
He's been on the morale committee and worked with outreach this time around.