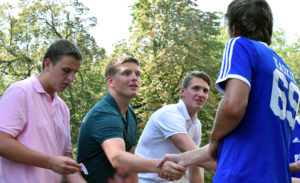 Fall new member recruitment began on Aug. 20, as dozens and dozens of prospective new members visited with fraternity members on the Memorial Mall during Meet the Greeks in the early afternoon and then again at a
barbeque at the fraternity house, 330 N. Grant St.
The fall recruitment period will run through Sept. 7, but if you are possibly interested in Pi Kappa Phi, the sooner you get started the better. The recruitment schedule is posted on this website under the "recruitment" tab.
The schedule for the two weeks of classes includes (all events are 6 to 8 p.m. at the fraternity house, across Grant Street from Purdue's Grissom Hall):
• Monday, Aug. 21, Meet and Greet the Brothers with Jimmy Johns.
• Wednesday, Aug. 23, Room Talks with BW3.
• Thursday, Aug. 24, House Tours with Chick-fil-e.
• Sunday, Aug. 27, Steaks & Stogies
• Tuesday, Aug. 29, The Ability Experience (national and local philanthropic effort assisting people with disabilities) with catering.
• Thursday, Aug. 31, Room Hangouts with Hotbox pizza.
Those interested are welcome to walk up to the registration table on the front lawn or at the main entranceway off Grant Street.
You can contact the following brothers if you have questions or need a ride.
• Hunter Day, recruitment chairman, 317.491.7309
• Nate Grabner, asst. recruitment chairman, 260.433.8254
• Davis Hensley, asst. recruitment chairman, 317.735.5478
• Blake Cobb, data coordinator, 949.226.3073
• Chad Hellan, chapter president, 602.515.7972
Pi Kappa Phi has been name the top fraternity at Purdue in seven of the last 10 years. It has the second largest membership on campus (out of 38 fraternities) and is consistently among the top 25 percent in all categories – grades, philanthropic fund-raising, and service hours.
Pi Kappa Phi is perhaps best known for its national service project, The Ability Experience (www.abilityexperience.org) whereby members serve people with disabilities. The chapter has numerous campus outreach efforts including assisting with special needs classes at a local high school. Furthermore, in the spring semester alone, the chapter raised $15,060 to assist people with disabilities.
Click "Photo Gallery" on this website to see additional photos of the Meet the Greeks and first recruitment events.