The Spring 2022 recruitment chairman and schedule is not available yet. Check back after the end of the Fall 2021 semester for more information. In the meantime, if you wish to make contact with someone from the chapter, reach out to the 2021 president, Jack Wagner, 812/583-3794, wagne261@purdue.edu.
What follows is information from the Fall 2021 period for your reference.
• Sunday, Aug. 22, Meet the Greeks, noon to 4 p.m., Krach Leadership Center lawn, this is a chance to visit with representatives from all 42 Purdue fraternities including Pi Kappa Phi
• Sunday, Aug. 22, Meet the Brothers, immediately following Meet the Greeks @ chapter house, 330 N. Grant St.
• Tuesday, Aug. 24, Meet the Brothers, informal gathering allowing prospective new members to meet chapter members
• Thursday, Aug. 26, Room Talks – potential new members go from room-to-room to learn about activities/expectations
• Sunday, Aug. 29, Corn Hole, play alongside potential new members and the brothers
• Tuesday, Aug. 31, The Ability Experience, learn about our award-winning service project
• Thursday, Sept. 2, Poker Night
• Sunday, Sept. 5, Basketball/RedZone watch party
• Tuesday, Sept. 7, Roundtable discussion
• Thursday, Sept. 9, Bid Dinner, by invitation only
** All recruitment events are located at Pi Kappa Phi, 330 N. Grant St. (one block north of Purdue Memorial Union and across the street from Purdue's Grissom Hall). All recruitment events are from 6 to 8 p.m., unless otherwise noted.
Fall 2021 Recruitment Chairman: Sam Bernicke, 513/476-4420; sbernick@purdue.edu. Assistant Recruitment Chairman Vince Gigilo, 630/750-6213, vrgiglio@comcast,net; Vice President Kyle Smith, 317/989-9127, smit3728@purdue.edu. You may also contact chapter archon (president) Jack Wagner at 812/583-3794, cell; or at wagne261@purdue.edu.
Potential new members either need to make contact with Bernicke directly (information is listed above) or use this link HERE to schedule a meeting time:
Pi Kappa Phi fraternity house is located at 330 N. Grant St., across the street from Purdue's Grissom Hall (which is located just north of the Purdue Memorial Union and just south of Knoy Hall of Technology). It is the most honored fraternity in Purdue history. You can see a list of recent awards elsewhere on this website.
Pi Kappa Phi looks for three things in prospective new members:
• Academic Achievement
• Service
• Leadership
Pi Kappa Phi seeks men who are committed to academic achievement. In the spring 2021 statistics, for example, 14 chapter members earned a 4.0 GPA. The chapter overall, had a 3.21 GPA in the spring and 71.1 percent earned a 3.0 or higher. We have a Purdue academic advisor who volunteers to assist members, too.
Pi Kappa Phi is committed to various service projects alongside our national partner, The Ability Experience. We raise money and awareness for people with disabilities. We volunteer in special needs classes at a local high school and co-host a Halloween costume party for adults with disabilities. Year in and year out we lead fraternities in fund-raising oftentimes doubling the closest competitor.
Pi Kappa Phi seeks proven leaders. If you held an elected position in high school, were active members extracurricular activities and/or were captains of sports teams prior to coming to Purdue, then you'd be a good fit for us. We encourage members to be involved in campus organizations and hold leadership in them. If you are not already part of a campus group, we'll help you select some. For example, we have had several members in the Interfraternity Council, oftentimes holding top leadership positions. Leaders make a difference in the chapter and on campus. That's our expectation of membership at Pi Kappa Phi.
Because of our priorities – academics, service and leadership – we have been named the RB Stewart Award winner three of the last four years and 10 of the last 14. The Stewart is given to Purdue's best fraternity. Accordingly, it's very competitive to earn a bid (invitation to membership) with us. If you are a man of conviction to your academic prowess, leadership potential and serving others let us know. You may become a Pi Kappa Phi.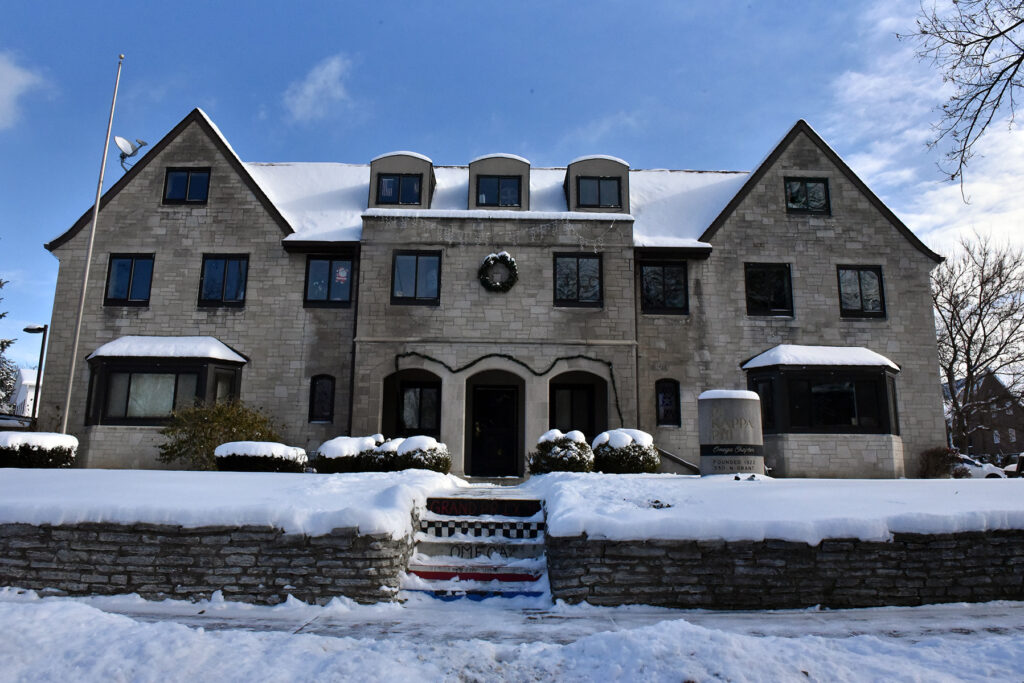 Fraternity, Sorority and Cooperative Life statistics compiled by the Office of the Dean of Students reflect that commitment. Here's where Pi Kappa Phi ranks among the 42 fraternities at Purdue:
Spring 2021 Statistics:
No. 1 in philanthropic fund-raising at $31,600, nearly double the closest competitor.
No. 3 in membership size with 141 members. The average fraternity size was 72 members.
No. 8 community service hours at 249.
No. 17 in grades with a 3.21 average GPA (No. 10 cumulative average of 3.30). The all-fraternity average was 3.18 semester GPA.
96 members had a 3.0 or higher, or 71.1 percent.
14 members had a 4.0, or 10.4 percent.
Our chapter was the No. 2 fund-raiser among the nearly 200 Pi Kappa Phi chapters nationwide contributing $18,600 to our national philanthropy, The Ability Experience, in the spring semester.
The chapter has two members riding in the Journey of Hope during 2021, Calvin Whetstone and Rohit Nadu.
Fall 2020 statistics:
No. 1 in philanthropic dollars raised at $46,097, more than four times the second-place finisher of $10,058.
No. 2 in size at 133 total members.
No. 7 in cumulative GPA at 3.21
No. 16 in semester grades with a 3.19 average GPA. The fraternity average was 3.17 and the all-men's average was 3.13
One of 8 chapters with a 100 percent reporting compliance with Purdue.
Individually, Pi Kappa Phi had 75 percent of its chapter members earn a 3.0 or higher in the fall 2020. Eleven had a 4.0 last semester and 60 members earned dean's list and/or semester honors.
Among the nearly 200 Pi Kappa Phi chapters nationwide, Omega was No. 2 in Ability Experience fund-raising in 2020 with $18,452, which included on-campus programming/fund-raising and alumni support.
Spring 2020 statistics:
No. 1 in philanthropic fund-raising with $73,563, almost double the closest competitor's $40,708.
No. 1 in service hours with 2,430, significantly more than the next highest chapter that had 1,534 hours.
No. 2 in chapter size at 166 members. The largest chapter had one more member, 167. The average Interfraternity Council chapter size was 75 members.
No. 11 in average GPA at 3.14. The top chapter was Sigma Phi Epsilon had a 3.43 average GPA, but it had only 14 members. The all-male average was 3.03 and the all-IFC average was 3.02. Only 3 of the Top 15 chapters had 100 members or more, with Pi Kappa Phi having nearly 50 percent more members than either of the other 2. Six of the chapters that ranked above Pi Kappa Phi had fewer than 50 members averaged into their GP
The national Pi Kappa Phi Fraternity has its own outreach program – The Ability Experience – and the Purdue chapter is very committed to it. You can read more about the chapter's commitment to the effort here and can look in our photo gallery for more details.
Overall, we raise money and awareness for people with disabilities nationally and locally through various events. There are details about such elsewhere on this website, too. Events include:
• 72-Hour David Feltner Memorial Bike-a-Thon
• Arctoberfest
• War of Roses
• Second Chance Prom for people with disabilities
• Lafayette Jefferson High School special needs classroom volunteering
• Pi Kapp 100 in conjunction with Moms Day (the chapter did not do the Pi Kapp 100 or Moms Day in 2020 and 2021 due to Covid, but this link will show what we did in 2019)
If you are interested in new member recruitment and have further questions, contact our Recruitment Chairman or fill out a form here.
Pi Kappa Phi prides itself in developing leaders, serving others and personal growth. As such, it has been honored as Purdue's top fraternity – RB Stewart Award winner – 10 of the last 14 years including 3 in a row (in 2018, 2019, and 2020. It also won the 2019 NIC Award of Distinction recognizing it among the Top 5 fraternity chapters in the nation).
Terminology:
Rush (aka new member recruitment). This is an opportunity to meet brothers at various chapters. There is no commitment made by you just to visit chapters during rush. It's an opportunity to learn about the members and the chapters. If you find fraternities you are interesting in potentially joining, you are encouraged to attend as many rush events as possible. The earlier the better.
Meet the Greeks. This is a Greek system-wide event held each semester. The various fraternities (spring and fall) and sororities (fall only) set up tables in a large area. Potential new members can meet representatives of the various chapters, pick up recruitment information and sign up on a specific chapter list. Attendance is not required to become part of the Greek system, but it's a way to visit with many chapters at the same event. Because there are so many chapters at Meet the Greeks, you might consider doing some online research of the various organizations through Google searches and the Purdue Fraternity, Sorority and Cooperative Life reports (grades, service hours, philanthropic fund-raising, etc.; https://www.purdue.edu/fscl/ ). You can view photos of an old Pi Kappa Phi Meet the Greeks event here.
Bid. This is an invitation to join the chapter. You are welcome to visit as many chapters as you wish and get as many bids as you want. However, once you accept a bid you are committed (it's not a contract, it's a commitment).
Legacy. This is when you have a relative who is a member of a specific chapter. Preference is generally given to those who have relatives among the chapter's membership or alumni rolls. There is no guarantee that a legacy will receive a bid at Pi Kappa Phi.
Induction. This is a formal event at the start of the new member education (aka pledgeship and/or associate membership) starts where each member of the class commits to seeking to become an initiated member into the chapter.
New Member Orientation/Pledging. After accepting a bid, there will be a formal ceremony welcoming you into the new member education plan. New Member education programs can be 2 to 30 weeks long, depending on the chapter. The most common timeframe is completion in the same semester as you start.
Initiation. This is a formal ceremony inducting you into a chapter. It occurs upon your successful completion of the new member education process. If you so choose, you typically can relinquish your bid (quit) to a chapter up to initiation time. It's during the initiation ceremony that you typically learn the secret meaning of the chapter. At Pi Kappa Phi, initiation occurs after the start of the semester following induction. Our initiation order is determined by the prior semester GPA (reinforcing the chapter's commitment to academic achievement).