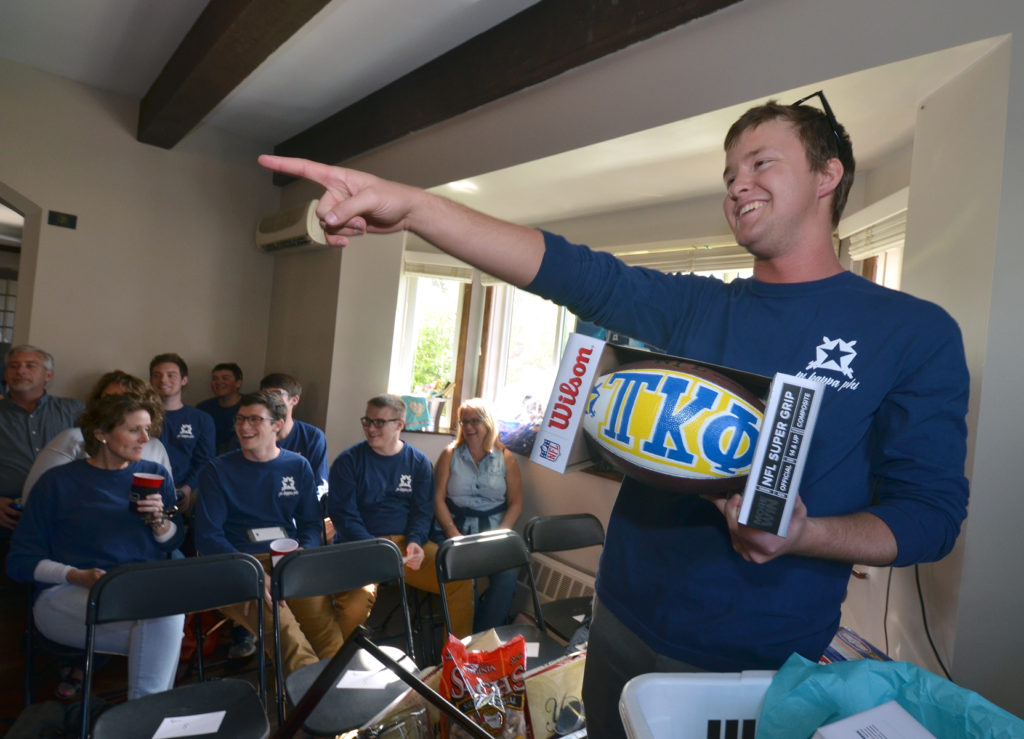 Mom's Day is an event held every year to celebrate the mothers of current Omega undergraduate brothers. We are proud to boast the largest Mom's Day on campus, hosting more than 250 people participating each year. Mom's day traditionally includes appetizers, a reception, silent & live auctions, presentations on the year's events and an evening banquet. While Moms Day programming is focused on moms, husbands and family members may attend, too.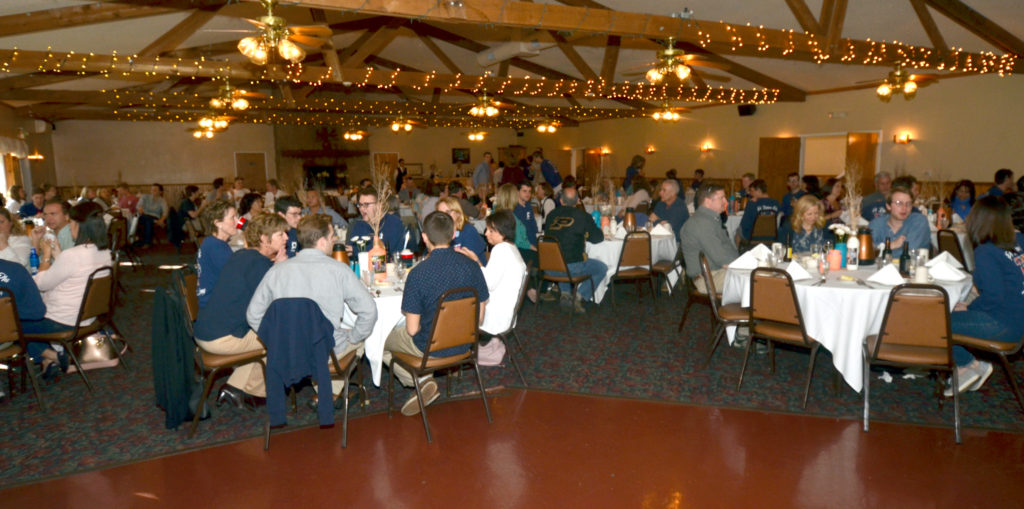 Mom's Day also kicks off with the arrival of the Pi Kapp 100, a 100km bike ride from Zionsville which raises funds for our national philanthropy, The Ability Experience. The arrival is early afternoon, which allows moms to spend time with their sons until a mid-afternoon reception. Then in the evening there is a banquet held away from the house. The specific timeline of events will be emailed to moms.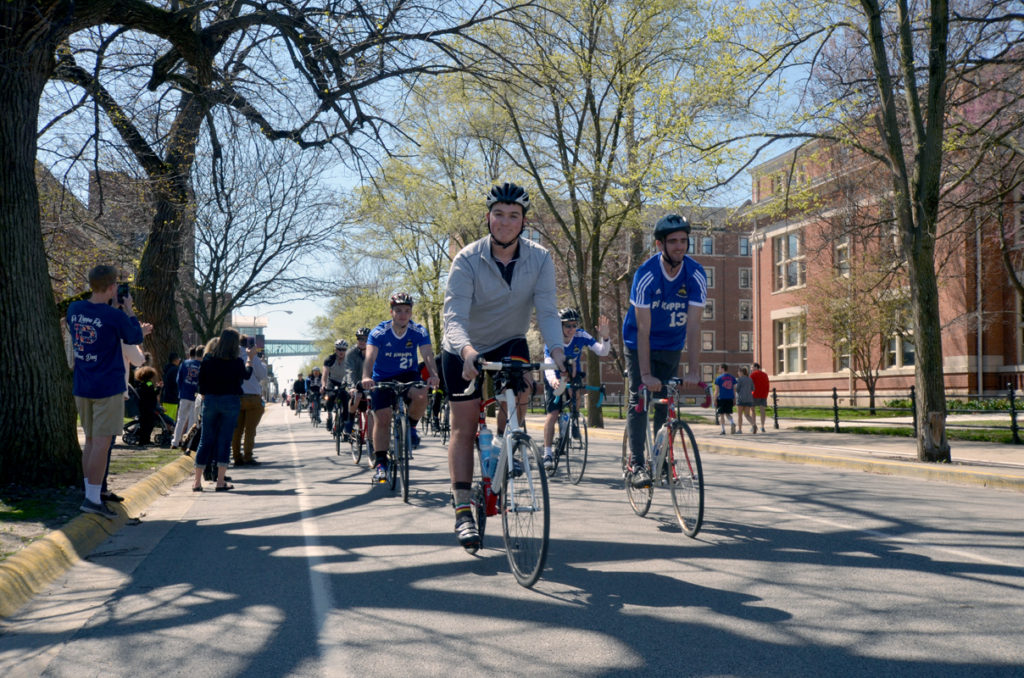 You can see photos of past Moms Day events under the photo gallery tab on this website. 
Moms Day 2018 will be held on Saturday April 14. 
The sooner you book hotel rooms the better. Suggestions include (in priority order):
Union Club Hotel, 101 N. Grant St., WL, 765/494-8913,
https://union.purdue.edu/hotel/Reservations/Index.html
Hilton Garden Inn, 356 E. State St., WL, 765/743-2100,
http://hiltongardeninn3.hilton.com/en/hotels/indiana/hilton-garden-inn-west-lafayette-wabash-landing-LAFWLGI/index.html
Hampton Inn & Suites, WL, 765/269-8000,
http://hamptoninn3.hilton.com/en/hotels/indiana/hampton-inn-and-suites-west-lafayette-LAFWEHX/index.html
Holiday Inn Lafayette-City Centre, 515 South St., Lafayette, 765/423-1000,
https://www.ihg.com/holidayinn/hotels/us/en/lafayette/lafin/hoteldetail?cm_mmc=GoogleMaps-_-HI-_-US-_-LAFIN
Four Points by Sheridan, 1600 Cumberland Ave., WL, 765/463-5511,
http://www.fourpointswestlafayette.com/?SWAQ=958P
The following hotels are a significant distance from campus (five to six miles; 20 to 30 minute drive):
Courtyard by Marriott, 150 Fairington Ave., Lafayette, 765/449-4800
http://www.marriott.com/hotels/travel/lafcy-courtyard-lafayette/?scid=bb1a189a-fec3-4d19-a255-54ba596febe2
Fairfield Inn & Suites by Marriott, 4000 South St., Lafayette, 765/449-0083
http://www.marriott.com/hotels/travel/laffi-fairfield-inn-and-suites-lafayette/?scid=bb1a189a-fec3-4d19-a255-54ba596febe2
TownePlace Suites by Marriott, 163 Frontage Rd., Lafayette, 765/446-8668
http://www.marriott.com/hotels/travel/lafts-towneplace-suites-lafayette/?scid=bb1a189a-fec3-4d19-a255-54ba596febe2
Hampton Inn, 3941 South St., Lafayette, 765/447-1600,
http://hamptoninn3.hilton.com/en/hotels/indiana/hampton-inn-lafayette-LAFHHHX/index.html
Homewood Suites by Hilton, 3939 South St., Lafayette, 765/448-9700,
http://homewoodsuites3.hilton.com/en/hotels/indiana/homewood-suites-by-hilton-lafayette-LAFINHW/index.html
DoubleTree by Hilton, 155 Progress Dr., Lafayette, 765/446-0900,
http://doubletree3.hilton.com/en/hotels/indiana/doubletree-by-hilton-lafayette-east-LAFDTDT/index.html
Holiday Inn Express & Suites, 200 Progress Dr., Lafayette, 765/449-4400,
https://www.ihg.com/holidayinnexpress/hotels/us/en/lafayette/lafsr/hoteldetail?cm_mmc=GoogleMaps-_-EX-_-US-_-LAFSR
LaQuinta Inn & Suites, 312 Meijer Dr., Lafayette, 765/446-2400,
http://www.laquintalafayettein.com/?cid=local_6463
Candlelight Suites, 240 Meijer Dr., Lafayette, 765/807-5735,
https://www.ihg.com/candlewood/hotels/us/en/lafayette/lafcw/hoteldetail?cm_mmc=GoogleMaps-_-CW-_-US-_-LAFCW
Baymont Inn and Suites, 201 Frontage Rd., Lafayette, 765/449-4808
Comfort Suites, 31 Frontage Rd., Lafayette, 623/748-7687,
https://www.choicehotels.com/indiana/lafayette/comfort-suites-hotels/in410?source=gyxt
Red Roof Inn, 4201 South St., Lafayette, 765/448-4671,
http://www.redrooflafayette.com/
Super 8, 4301 South St., Lafayette, 765/607-6350,
https://www.wyndhamhotels.com/super-8/lafayette-indiana/super-8-lafayette/overview?CID=LC:SE::GGL:RIO:National:14289&iata=00065402
Any Questions can be directed to historian@purduepikapps.com