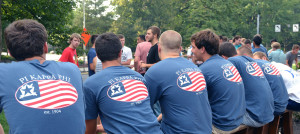 Rush at Purdue is the process of joining a house in the Greek or Co-op system. Rushing a fraternity can be a life-changing experience, providing many benefits to members that would not otherwise be experienced during and after college. Rushing a fraternity is the first step in experiencing all that Greek Life has to offer.
Purdue has one of the largest Greek systems in the country, with about 5,000 undergraduate students involved in Greek life. Many of Purdue's most influential and famous alumni were involved in Greek life while at Purdue, including Neil Armstrong, Orville Redenbacher , and Drew Brees.
Pi Kappa Phi at Purdue was established on campus in 1922. Since then we have initiated over 2,000 members and been influential in many campus events. In the last decade alone, Pi Kapps has been named the top fraternity at Purdue 6 times, been named a top chapter of Pi Kappa Phi in the Nation 4 times, and won countless intramural titles. If you or someone you know are interested in joining the legacy of Pi Kappa Phi, please fill out the form found here.
To view our Recruitment calendar view here