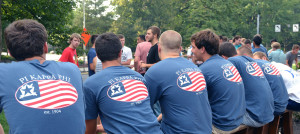 Recruitment (also known as fraternity "rush") at Purdue is the process of joining a group in the Greek or cooperative housing system. Rushing a fraternity can be a life-changing experience, providing many benefits to members that would not otherwise be experienced during and after college. Rushing  one of the 41 campus fraternities is the first step in experiencing all that Greek Life has to offer.
Purdue has one of the largest Greek systems in the country, with more than 6,000 undergraduate students involved in Greek life. Many of Purdue's most influential and famous alumni were involved in Greek life while at Purdue, including Neil Armstrong, Orville Redenbacher and Drew Brees.
Pi Kappa Phi at Purdue was established on campus in 1922. Since then we have initiated more than 2,000 members and been influential in many campus events. Since 2008, Pi Kapps has been named the top fraternity at Purdue 9 times (RB Stewart Award), been named a top chapter of Pi Kappa Phi in the nation four times (Founders Award) and won countless intramural titles. And it was named one of the top 5 chapters in the nation (out of 6,000+ chapters) in 2019 when it received the Award of Distinction from the North American Interfraternity Conference.
Each semester, the Interfraternity Council (the governing body for fraternities) hosts a "Meet the Greeks" event on campus. In the fall semester, it's typically held outdoors either on the Memorial Mall or the lawn north of the Krach Leadership Center. In the spring, it's typically held in one of the ballrooms of the Purdue Memorial Union.
Afterwards, individual chapters host recruitment events (also known as "rush functions") at their fraternity houses. While there, you should meet as many of the brothers that you can to learn about them and how the chapter operates.
If you or someone you know are interested in joining the legacy of Pi Kappa Phi, please fill out the form found here.
For specific information about the most current recruitment information, use the recruitment pull down menu and look at the rush calendar.